Home
> Service
NDT (Non-Destructive Testing) & Welds & Loading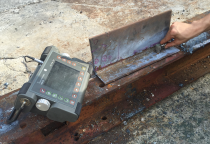 Non-Destructive Testing(NDT) encompasses a wide group of analysis techniques used in the oil & gas industry and construction industry to evaluate the propertoies of material. The term "Non-Destructive Testing (NDT)" is commonly used to descibed the technology since it does not alternative the object being inspected. It is a highly valuable technique that can save both time and money in product evaluation.


NDT Techniques
HKCWTC has a wide range of NDT
capabilities that meet your project requriments and inspection needs.
All our NDT techniques and technologies are certified to international standards(CSWIP, PCN, ASNT). Our NDT team is equipped with state-of-the-art equipments and experienced professionals in order to provide you with confidence and assurance.
Visual Inspection (VI)
Ultrasonic Testing (UT)
Magnetic Particle Inspection (MPI)
Dye penetrant / liquid penetrant inspection (PT)
Hardness testing
Proof Load Anchor Bolt Test
Loading Test
Apart from the above HKAS approved inspection services, we also provide welding related inspections.
Welding Procedures
MMA on plate and pipe
Stainless steel fluxcpred method on welds
Innershield method on welds
TIG for stainless steel and alloys
Welder Approvals
Inspection and approval of welder